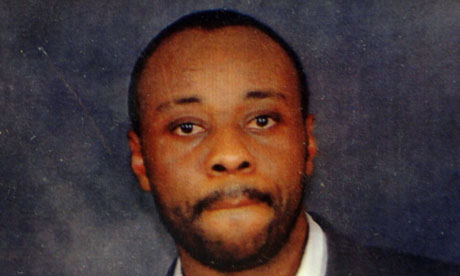 Jimmy Mubenga: security firm G4S may face charges over death
G4S company and guards on flight carrying Jimmy Mubenga could be charged with manslaughter (See original story: http://cameronduodu.com/uncategorized/angolan-dies-as-hes-asphyxiated-by-british-guards-during-deportation-by
Paul Lewis and Matthew Taylor
guardian.co.uk, Wednesday 16 March 2011 21.01 GMT
Jimmy Mubenga died while being deported. Now the company G4S and its guards may be charged with manslaughter. Photograph: Graeme Robertson
Scotland Yard is considering bringing a corporate manslaughter charge against the world's largest private security firm over the death of an Angolan deportee.

Detectives investigating the death of Jimmy Mubenga, who collapsed while being deported on a commercial flight from Heathrow, have interviewed whistleblowers from G4S, the company hired by the government to deport foreign nationals.

They are considering whether the company could be held responsible for his death under rarely used legislation that came into force three years ago.
Passengers on British Airways flight 77 told police they saw three G4S guards heavily restraining Mubenga, who they said had been complaining of breathing difficulties before he collapsed. The guards were later arrested in connection with the death and, following interviews this week, were bailed until 4 May. They could face manslaughter charges.
However, sources with knowledge of the case have said police are also considering passing a file to the Crown Prosecution Service recommending a corporate manslaughter charge against G4S. The first and only company to be convicted under the Corporate Manslaughter and Corporate Homicide Act 2007 was found guilty last month. Cotswold Geotechnical Holdings was fined £385,000 for the death of Alexander Wright, 27, a geologist who suffocated when he became trapped in a collapsed trench.
Under the legislation, prosecutors need to prove a person's death was caused by a gross breach of duty of care by a company. They also need to convince a jury that the actions of a company's "senior management" were a substantial element in that breach.
A prosecution of this kind against G4S, which receives more than £600m from the government for services including the running of four prisons, three immigration removal centres and 675 court and police cells, would be highly damaging to the Home Office. G4S is the second-largest private employer in the world and boasts a £7bn turnover.

Police have recently interviewed three G4S whistleblowers, who last month told parliament that the company repeatedly ignored warnings from staff that potentially lethal force was being used against deportees. They said executives were warned about one technique nicknamed "carpet karaoke", which involved bending deportees over in aircraft seats to silence them. The whistleblowers, who include a G4S charter operations manager who said he warned seniors they risked "playing Russian roulette with detainees' lives", are known to be cooperating with police and providing detailed paperwork they say corrobarates their claims.
Detectives are also seeking to track down other individuals from G4S known to have concerns about safety standards and training at the company.
Heathrow CID opened the inquiry into the death of Mubenga, 46, hours after he collapsed on the aircraft as it prepared for departure to Luanda on 12 October. The flight was delayed for 24 hours and passengers were transferred to a nearby hotel overnight. The following day, the passengers were interviewed by police but, owing to their imminent departure, only spent around 40 minutes each speaking to detectives.

Days later, the Metropolitan police's homicide unit took over the case after the Guardian independently tracked down passengers who said Mubenga had complained he was unable to breathe for several minutes before his collapse. The unit arrested three guards, aged 35, 48 and 49, and questioned them under caution.

Police have tried to trace other passengers for more in-depth interviews.

Four G4S whistleblowers last month submitted evidence to the Commons home affairs select committee. The evidence, obtained by the Guardian, alleged serious failings by G4S. It also contradicted some of what senior G4S officials told MPs at a hearing after Mubenga's death.
Keith Vaz, who Labour MP who chairs the committee, said the possibility that whistleblower evidence could assist the police investigation represented "progress". His committee has yet to decide whether to recall the G4S officials or hold further evidence sessions.
"I am not surprised that the police have decided to take the matter forward given the circumstances surrounding this case," he said. "I am sure the members of the home affairs committee will want to look further into this case during their inquiry into the deportation of detainees."
Committee member Julian Huppert, a Lib Dem MP, said police interest in the parliamentary testimony showed "how strong the committee process is". "I am glad the home affair select committee hearing has led to this outcome," he said.
G4S said in a statement: "As this is the subject of an on-going investigation, we are unable to comment as this time. We can confirm that G4S has received no approach at this time from the authorities in relation to the company's position and potential liabilities."
CAMERON DUODU writes: While the sub judice rule prevents detailed comment on this case, it is evident that the policy of  contracting out deportations and other forms of punishing processes to private companies, is in need of urgent review.
The simple principle is: in a civilised society,the state is the only institution that should be  empowered by law,  to inflict punishment on alleged lawbreakers. This is because to allow a private company (whose raison d'etre is to maximise profits) and its employees to assume that role is a serious breach of the alleged offenders' human rights.
The breach of human rights lies in the fact that whereas the state's own employees — the police,prison warders and immigration officers — can,l normally, be expected to be  paid salaries that do not necessarily reflect how speedily they can carry out their assignments,  and may therfore not be interested in "turning around" deportations and other detentions cases speedily, so that they can go and perform others (the motive being that the more work they can do more quickly, the higher the profits to be garnered by their company) the very first objective of a private company, on the other hand,  is, logically, to speed things up in order tomaximise profits. Such "efficiency", in dealing with human beings, can inevitably — and inexorably — come at the cost of human life itself.
So, with the best will in the world, the profit motive will come first with a private contractor,  and the safety of alleged offenders sometimes ignored. That does not mean that there are no rigid guidelines laid down for the employees of the private company. Operational complications are necessarily tackled o0n the spot, and here, "mindset" speaks volumes.
It is a terrible conclusion to come to, but Great Britain, through this practice, has, in my view, s completely overturned the respect for human rights that should be axiomatic in such a country. Any policy that pus money before human welfare, is atavistic — certainly, in the 21st century.

Even in the 1950s, when it was discovered that the police in Kenya were maltreating detainees at Hola  Camp, a great deal of fuss was made about it by the House of Commons.Yet, here we are now, half a century later,  seeing the British Government — one of the original drafters of the Universal Declaration of Human Rights — jettisoning reasonable concerns and  carrying out a policy whose inner dynamic logically posits its victims inexorably at serious  risk of fatal injury.
The policy must be abandoned straight away. Human life cannot be wantonly thrown away in search of economic savings. To wait until the long processes of  arrests, interrogation and prosecution have been exhausted, is to place more lives in serious danger.

A civilised country that has ratified the European Convention of Human Rights cannot ignore its obligations that way.