THE LONDON GUARDIAN
News
UK news
Squatters take over Saif Gaddafi's London home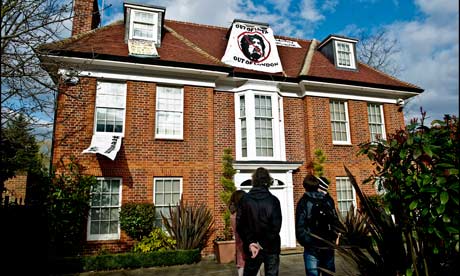 Protest group Topple the Tyrants seizes what it describes as the Libyan government's 'corrupt and stolen assets'
Share
950
Esther Addley
guardian.co.uk, Wednesday 9 March 2011 19.28 GMT
Article history
Protesters calling themselves Topple The Tyrants have taken over Saif Gaddafi's home in Hampstead, London. Photograph: Sarah Lee for the Guardian
It may be furnished, according to its new occupants, just as you would expect "when you have spent £10m of blood money on a house", but judging by the appearance mid-afternoon of a masked man in camouflage gear carrying two shopping bags from Budgens, no one had thought to fill the fridge.
Perhaps when occupying the multimillion-pound London mansion of a tyrant's son, food is some way down the list of priorities. More pressing tasks, for the small group of protesters who have moved into Saif al-Islam Gaddafi's redbrick Hampstead home, were affixing banners to the roof reading "Revolution" and "Out of Libya, out of London", and summoning the press, to whom they declared their actions had been taken "in solidarity with the people of Libya, the people of Cairo, the people of Saudi Arabia".
Spokesman Montgomery Jones told the Guardian that the group, called Topple the Tyrants, had been formed in response to the events of the Arab spring; this was their first action. How many of them were there? "We're not doing numbers."
Though there were no Libyans among the group, "we have people from the Middle East and we're hoping to disseminate the protests more widely". Further properties would be targeted "if they are owned by dictators, absolutely".
A printed notice declaring their legal rights as squatters and taped to the front door, and the appearance of a man in a yellow tabard with the words "legal observer" handwritten on the back, suggested this was not the first such protest for those involved.
The property, the protesters said, was managed by Gaddafi through a holding company registered in the British Cayman Islands. They said they had been alerted anonymously to the address.
A number of neighbours have spoken in recent days of their disquiet about living close to the dictator's son. One, Dr Saul Zadka, told the Hampstead and Highgate Express that residents did not want to live next to Gaddafi, "even though he became a very acceptable figure among the British high society and political echelons".
Around 4pm, assured by telephone that the BBC had arrived, a member of the group climbed out of a window, past a neatly trimmed laurel bush and low box hedgeto address the cameras. "We do not trust the British government to properly seize the Libyan government's corrupt and stolen assets so we have decided to take matters into our own hands.
"The British government only recently stopped actively helping to train the Libyan regime in crowd control techniques … As well as training the regime in repression, British corporations are also guilty of providing the same weapons that are now being used by Gaddafi against the Libyan people."
Two protesters obliged the photographers by climbing on the roof, one carrying a football and declaring: "Dictators are balls."
They would stay, said Jones, "until such time as we are sure that [the property] can be returned to the Libyan people". So what did £10m of blood money buy by way of interior decor? "It's palatial, flatscreen TVs in almost every room. We've got them all tuned to al-Jazeera now."