Katy Murrells
guardian.co.uk, Tuesday 21 December 2010 14.00 GMT
Article history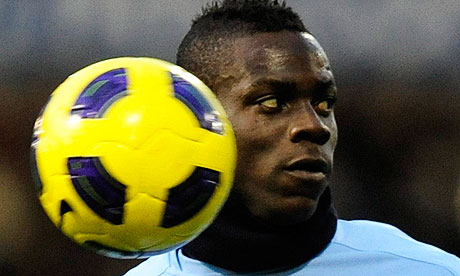 Mario Balotelli: not short of confidence.
Photograph: Nigel Roddis/Reuters
Mario Balotelli has been named the best young player in Europe – and has taken a swipe at Jack Wilshere, Cesc Fábregas and Wayne Rooney in the process.
The Manchester City striker won the Golden Boy trophy, organised by the Turin newspaper Tuttosport and voted for by European journalists to honour the most talented footballer under the age of 21. The 20-year-old beat the 18-year-old Wilshere into second place – and then claimed he did not even know who the Arsenal midfielder was.
"What's his name? Wil … ? No, I don't know him, but the next time I play against Arsenal I will keep a close eye on him," Balotelli said. "Perhaps I can show him the Golden Boy trophy and remind him that I won it."
The Italy international then had a dig at previous winners of the award, including Fábregas, Rooney and Rafael van der Vaart, insisting only one past recipient could claim to be better than him.
"There's only one that is a little stronger than me: Messi.
All the others are behind me.
"I am delighted to receive the award, but who should have won it but me? Two years ago I finished sixth and then fourth in 2009. It was finally my turn. My aim is that this prize will transform itself into the Ballon d'Or. To have won this award is a good omen [for me] to achieve that."
Aside from personal prizes, Balotelli also seems confident of helping his team win the Premier League title this season. "For 2011 I want the Premier League, in order to continue with the tradition I had at Inter of winning three consecutive titles, and to clinch the Europa League, a trophy I have not yet won and a competition where we are considered favourites."