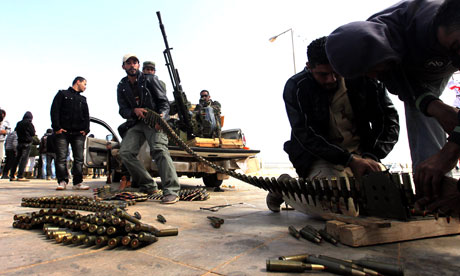 Libya uprising – live updates
• Government tanks close in on Zawiyah
• Airstrike hits oil terminal near Ras Lanuf
• Gaddafi accuses west of coveting Libya's oil
• UN to investigate torture by Gaddafi forces
Libya uprising – live updates
• Government tanks close in on Zawiyah
• Airstrike hits oil terminal near Ras Lanuf
• Gaddafi accuses west of coveting Libya's oil
• UN to investigate torture by Gaddafi forces
17
Comments (95)
This page will update automatically every minute: On | Off
Rebels take on the Libyan air force during the aerial bombardment of Ras Lanuf. Photograph: Khaled Elfiqi/EPA
7.47pm GMT: The private planes that flew out of Tripoli earlier today have turned out to be part of the new diplomatic offensive on the part of the Gaddafi regime.
One flight went to Cairo, carrying a private message from Gaddafi to Egypt's military leaders, another flight went on to Lisbon, and a third to Brussels, via Paris, ahead of a pair of crucial meetings in Brussels, including the EU foreign ministers meeting.
In Portugal foreign minister Luis Amado met with an unidentified envoy from Gaddafi's government at a hotel in Lisbon, in what was described as an informal meeting "to discuss the upheaval in Libya" in a statement:
O ministro de Estado e dos Negócios Estrangeiros, Luís Amado, aceitou encontrar-se hoje em Lisboa com um emissário líbio, a pedido deste, a fim de receber informações sobre a situação que se vive na Líbia.
7.32pm GMT: More details are coming in from the rebel fighters who appear to have retaken control of the centre of Zawiyah this evening.
Reuters has spoken to an anti-government fighter in the city named Ibrahim:
"We have pushed [pro-Gaddafi forces] out and we are back in the square now," Ibrahim said by telephone. "They are one kilometre away now. Thanks to Allah we are sitting in the square now."
The civilians, who were not from Zawiyah, had chanted pro-Gaddafi slogans, he said. Libyan television had earlier shown a loyalist crowd in the city.
"There is no fighting at the moment, but if the fighting begins, those civilians will be caught between the fire," he said, adding that the Gaddafi forces had left a trail of destruction on their way into Zawiyah.
"This is a death or life battle for us, we have nothing to do now but to fight [Gaddafi]," Ibrahim said.
He added: "We are running out of food and baby milk. This is a disaster for us. As adults we can bear it without food but babies do not understand and they are crying."
7.15pm GMT: Reuters is quoting a rebel fighter in Zawiyah as saying the opposition forces had retaken the main square of the city tonight after pro-Gaddafi forces took control of it earlier in the day but later pulled back to the outskirts.
The fighter named Ibrahim told Reuters the government had brought in supporters of Gaddafi for a rally in the centre, who were now caught between rebel and loyalist forces, but that there was currently no fighting in the city.
http://static.guim.co.uk/sys-images/Guardian/Pix/audio/video/2011/3/9/1299671979803/Libyan-rebels–010.jpg
7.01pm GMT: The fighting in and around the Libyan town of Zawiyah remains a see-sawing battle between pro-Gaddafi and anti-government forces.
For example: Reuters reported at 6.48pm GMT: "Gaddafi's forces regain control of Zawiyah centre". Then at 6.56pm GMT, the agency sent out another news flash: "Zawiyah fighter says rebels have retaken main square, Gaddafi forces now one km outside city".
In the 19th century this is what was called "the fog of war".